Wickr Me is popular across the world for its easy-to-use and fully secure messaging capabilities. Featuring messaging, group chat, and file sharing — all protected by state of the art end-to-end encryption — it provides the security and usability that users need around the globe.
Wickr Me is great, but it is designed for individuals. Many of our users find that they want to use Wickr to work as a team, and they are making the jump from Wickr Me to Wickr Pro. Here are the top 10 reasons Wickr Me users take advantage of the free upgrade to Wickr Pro:
1. Voice and Video Calling
While Wickr Me offers unlimited messaging capabilities, users will need to upgrade to Wickr Pro in order to make a call, whether it is an audio or video call. Messaging can be helpful, but sometimes it is just easier and quicker to relay information with a call. Wickr Pro allows you to make audio and video calls with ease, while still protecting the transmission with advanced security measures.
2. Voice and Video Conferencing
On top of voice and video calling, Wickr Pro also offers voice and video conferencing. If you initiate a call in a Wickr room, you can talk with up to 30 people for free. This includes either audio conference calls or video conferencing.
3. Screen Sharing
Video conferencing has become a staple of teamwork, and screen sharing is a big part of that. While there is no screen sharing option on Wickr Me, Wickr Pro offers screen sharing so that you can better collaborate with your team, no matter where they are.
4. Password Retrieval
Wickr Me is known for its privacy and anonymity — users can create an account without even providing an email address or phone number. But this can have a negative side effect: if you lose your password or forget your user ID, you are out of luck. We purposefully don't store user IDs and passwords to provide complete privacy for our clients, so Wickr Me has no "forgotten password" feature. Wickr Pro, however, is associated with your email address, which allows us to let you reset your password if needed.
5. Larger File Sharing
While Wickr Me will allow file sharing, you can only share files up to 10MB within the app. Wickr Pro allows file sharing up to 1GB on the free plan, and up to 5GB for a paid plan. This allows team members to send virtually any kind of file, even large video files.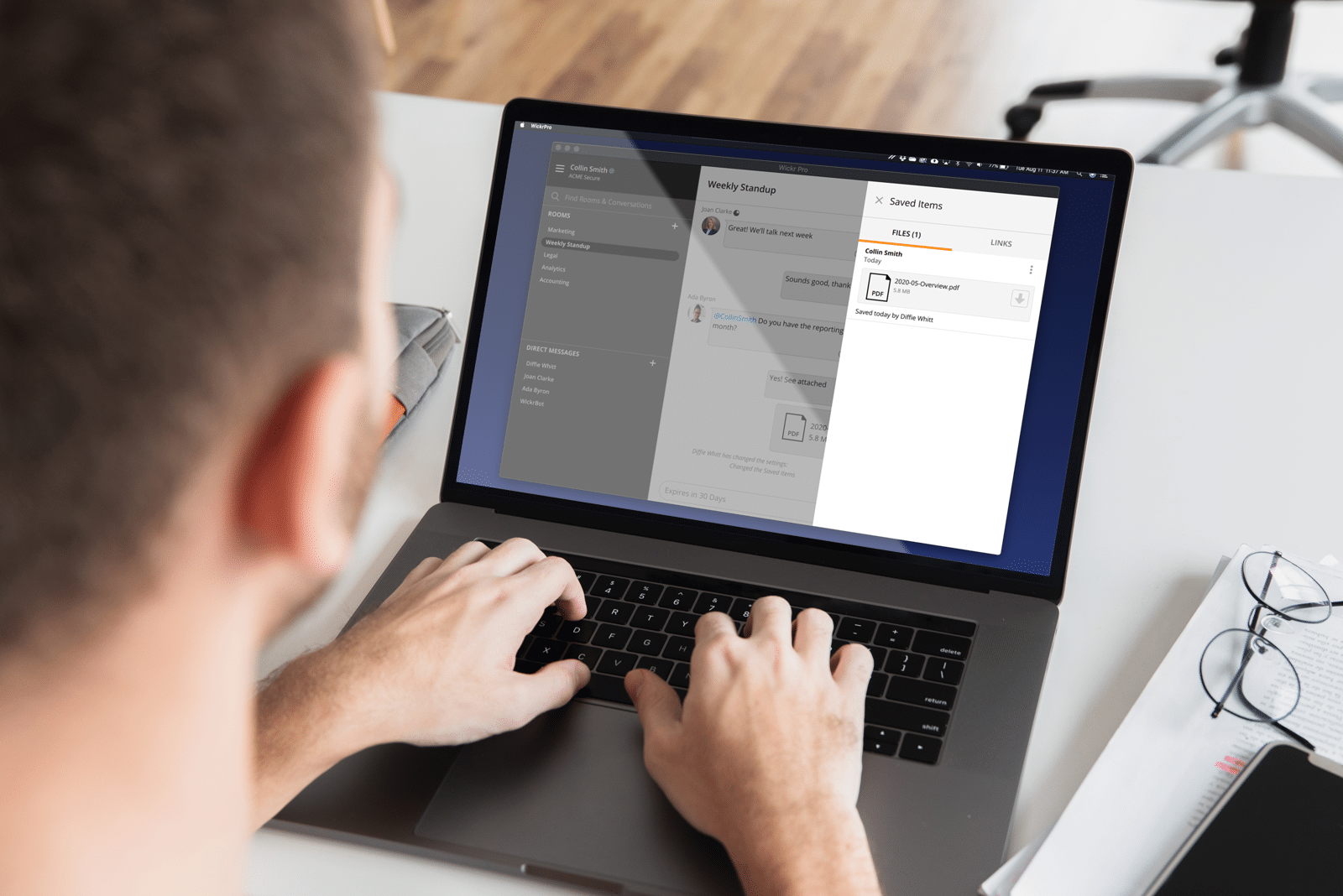 6. Room Moderators
Wickr Pro allows you to create "rooms", which are essentially groups of people that can communicate together. While Wickr Me also has rooms, Wickr Pro allows room moderators to be able to control what happens in the room. For example, a room moderator can set expiration timers, pin files, or decide who is allowed into the room. This feature demonstrates why Wickr Pro works so well for teams.
7. Network Administrator Control
When upgrading to Wickr Pro, you can create a network of users that are trusted within your organization. This also allows you to have administrative control over these users — for example, you can require that all users keep "Require Authentication" turned on to better preserve the security of your network.
8. Longer Expiration Timers
Wickr is known for ephemerality — this means we automatically delete messages after a prescribed amount of time that you have determined. Both Wickr Me and Wickr Pro employ expiration timers, but within Wickr Me, the longest expiration timer is 6 days. In Wickr Pro, the expiration timer can be set up to 30 days, allowing messages to stick around a bit longer in case you need to find them.
9. Scalability
Wickr Me can work well for one-to-one communications, but its capabilities are limited. Wickr Pro is also free, and yet has the capability to scale from only a couple of collaborators to hundreds with ease. We can't predict how much your business will grow, but we can guarantee that we have the ability to grow with it.
10. Cross-Network Communications
You might be nervous to switch over to Wickr Pro because all of your contacts are on Wickr Me. Luckily, Wickr Me and Wickr Pro users can communicate with each other across networks, so there is no need to convert all of your contacts to Wickr Pro. This is also helpful if you have vendors or other third-party groups that want to communicate with your team but might not want to use Wickr Pro.
Wickr Pro: The Fully Secure and Scalable Communications Platform
Wickr Pro is easy to use, loaded with features, and employs state of the art security capabilities, ensuring that your team's communications remain private and secure. We created Wickr with security top of mind, so you can simply collaborate with your team and allow us to protect your data. And best of all, Wickr Pro is free for up to 30 users. Download Wickr Pro today!